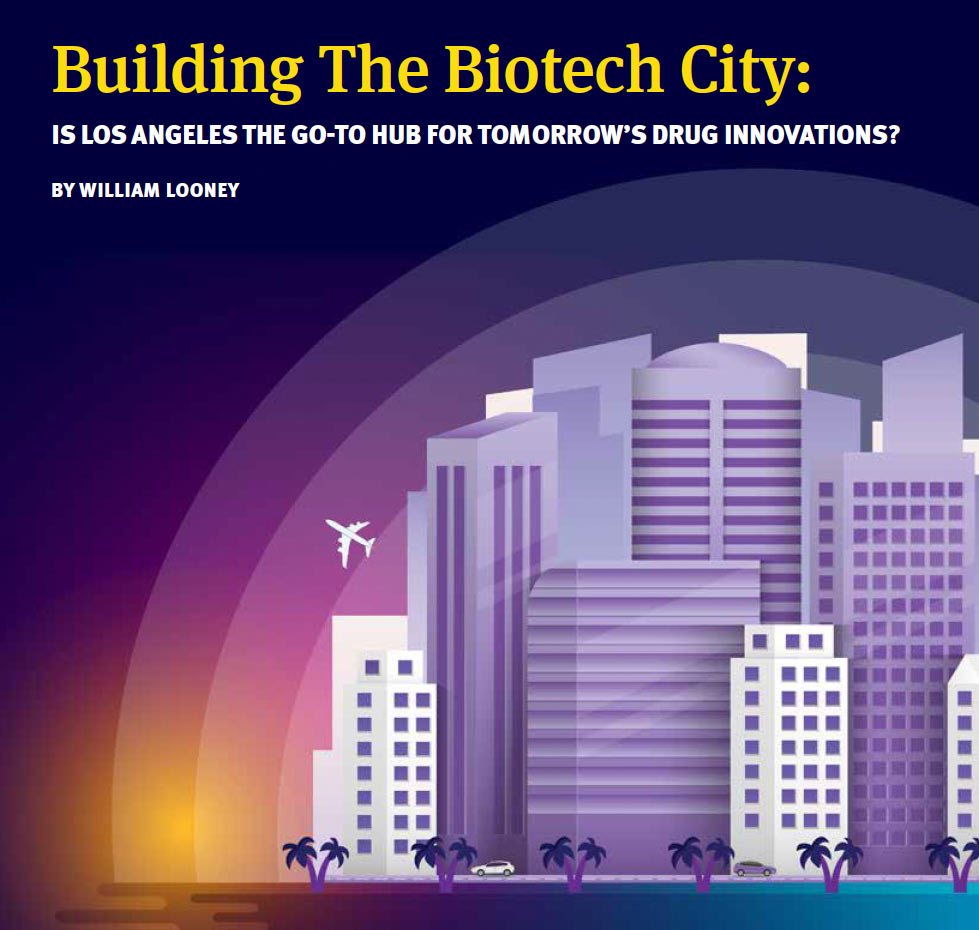 Los Angeles has a long history of reinventing itself. From a village of 5,000 people in the 1870s, focused on cattle farming and agriculture; to establishing ports, railways, banks and factories designed to challenge San Francisco; to producing one-quarter of the world's total oil supply by 1923; to the boomtown days of Hollywood from 1913-1941; to the World War II years when the city grew as a center for production of aircraft, ships, war supplies, and ammunition; to the economic expansion driven by the baby boomers, Los Angeles has a rich history of reinventing itself. Today, the city is experiencing another renaissance—this time in biotechnology.
In the current edition of In Vivo, Westlake Village BioPartners' Beth Seidenberg sat down with editor William Looney and seven key leaders in the Los Angeles biotech region to discuss how the city is positioning itself for global leadership in the biopharma industry.
Some highlights from the article include:
Seidenberg on…
…falling in love with Southern California

I exemplify a common theme, moving out to California with some trepidation, then falling in love with the geography, climate and a unique way of living that is very different than other parts of the country.
…what's happening now in the greater Los Angeles region

Finally, I happen to be living in the right place. I am now helping shape the future of the city after founding last September a new VC enterprise, Westlake Village BioPartners, jointly with Amgen's longtime head of R&D and a close friend, Sean Harper. We've raised $320m so far.  Our business mission is to seed the Los Angeles area's potential in life sciences, focusing on early-stage incubator companies with interesting novel technologies as well as a few later-stage plays that together will create a diversified portfolio marked by great science – and treatments that, while they might be developed here, will work for all patients, regardless of geography.
…a viable ecosystem

If you want to build a viable commercial business, a supportive surrounding ecosystem of other like-minded businesses as well as a familiarity with the stakeholders responsible for shaping local practice and regulation is extremely important.  I've experienced this dynamic at work before in Boston; in Los Angeles the same thing is happening now, but at a more rapid pace.
…the practicalities of doing business in Los Angeles


Few people realize that the biggest challenge facing Los Angeles biotech is the chronic shortage of private laboratory real estate. We need more lab space and a strategy on where to place it to achieve the greatest synergies between industry, services and adjacent businesses, academia and the big teaching hospitals.
…the differences between California and the East Coast

It's not going to be possible for Los Angeles to look like Kendall Square in Cambridge.  We are likely to grow out to resemble the Bay Area, with many pockets or clusters of activity.
You can read the full article, including comments from the other participants, on the In Vivo website. (Note that you need to be a subscriber or register for a free trial subscription in order to access the full article.)