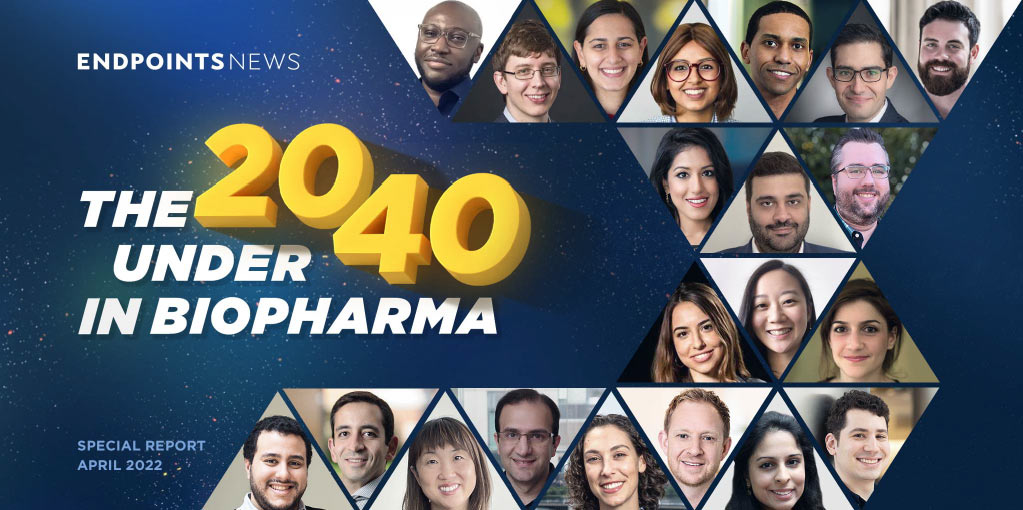 Three scientists from Westlake-founded companies have made this year's Endpoints Top 20 Scientists Under 40 list. Meet Sharif Tabebordbar, Nick Goeden, and Nick Flytzanis. They're all Ph.D. scientists – aged 36, 35, and 35, respectively. Each of them was instrumental in founding a promising biotechnology company. And in doing so, each has already achieved more than some do in an entire career.
Tabebordbar, Goeden and Flytzanis have one other thing in common: they were all named to the 2022 Endpoints "20 Under 40" list. This annual honor, selected from hundreds of quality nominations, is announced each year to highlight the next generation of biotech leaders.
Tabebordbar, 36, is the co-founder and Chief Scientific Officer at Kate Therapeutics, a company developing adeno-associated virus (AAV)-based gene therapies to treat genetic muscle disease. Born and raised in Iran with a father who suffered from a degenerative muscle disease, Tabebordbar sees Kate as more than just a company – it's a personal mission. "I know how genetic muscle disease affects patients and their families, and now I'm fortunate enough to have the opportunity to work with the Kate family to do something about it," he said.
After studying at the University of Tehran, Tabebordbar moved to the U.S. to pursue a Ph.D. in developmental and regenerative biology from Harvard University. Post-graduate school, during a short stint at a gene-editing company, he began to really understand what a challenge it was to deliver gene therapy to muscles. "I started working on development of technologies that enable more potent delivery and systemic administration to tissues of interest," he said.
After seeing great promise in this technology for advancing muscle gene therapy, Tabebordbar went "all in" and worked with a team of colleagues to start Kate Therapeutics. At 36, he's well on the way to fulfilling his childhood dream of helping people like his father. "In the next few years, as gene therapy progresses in the clinic, more challenges will come up. My goal is to help find solutions for these issues as we face them and to develop effective and safe medicines for people living with genetic diseases," he said.
Nick Goeden and Nick Flytzanis – "the Nicks," as many of their colleagues call them – are also making significant progress in the field of AAV gene therapy. Capsida Biotherapeutics is building a new class of targeted therapies and revolutionary delivery mechanisms for debilitating and life-threatening genetic disorders, starting with central nervous system (CNS) indications. Goeden, 35, serves as Chief Technology Officer of Capsida Therapeutics, while Flytzanis, 35, is the company's Chief Scientific Officer.
Capsida's platform originated from groundbreaking research in the laboratory of Viviana Gradinaru, PhD, a Caltech neuroscience professor. That's where Goeden, then a post-doctoral researcher, met Flytzanis, who was a Ph.D. student. A few months into working together, the two began to envision a translational focus for this AAV gene therapy platform – an opportunity to purpose it for human therapeutics. A year into those conversations, the platform achieved its first proof-of-concept.
Over lunch – at a restaurant fittingly named Nick's – Goeden and Flytzanis approached Gradinaru with a concept for a gene therapy company built around this revolutionary AAV engineering platform. A few months later, Capsida was born. About a year ago, the company debuted with $140 million of capital.
"Neuroscience is such a young field relative to the rest of medicine – we didn't really understand what a neuron looked like or how it functioned until just over 100 years ago," said Goeden. "Historically, we haven't had a good way of interrogating the brain and understanding CNS diseases, nor have we have good delivery methods. Before our CREATE platform was developed, I would have said it was impossible to engineer a virus to get across the blood-brain barrier. It was revolutionary, and I wanted to be involved – to take that idea and move it into a translational platform."
Flytzanis agreed that gene therapy, while still in its infancy as a field, will play a major part in the future of medicine. "Gene therapy, to me, is the first ability to treat the root cause of a disease as opposed to just the symptoms," he said. "When I'm looking back at my career someday, I hope to say I played a part in gene therapy becoming mainstream."
Now that they're a bit more established in their mid-30s, Tabebordbar, Goeden and Flytzanis all have practical advice for young scientists looking to break into their fields. Tabebordbar suggested mapping out your talents and your passions – and finding where they intersect. "If you can find an overlap between those two, that's the key to success," he said. "It takes talent and passion – as well as hard work – to get where you want to be."
Goeden suggests surrounding yourself with people smarter than you – "that's how it was for me at Caltech," he joked – and observing how they do science. "The people around you make you a better scientist, and the ability to work with people who solve problems in a different way is incredibly rewarding," he said.
Flytzanis suggested a "dive in headfirst" approach. "It's a bit cliché, but it's the reality for young scientists in their fields today," he said. "Don't spend too much time trying to figure out how to get from point A to point Z. Jump in, get started, and you'll figure it out as you go."