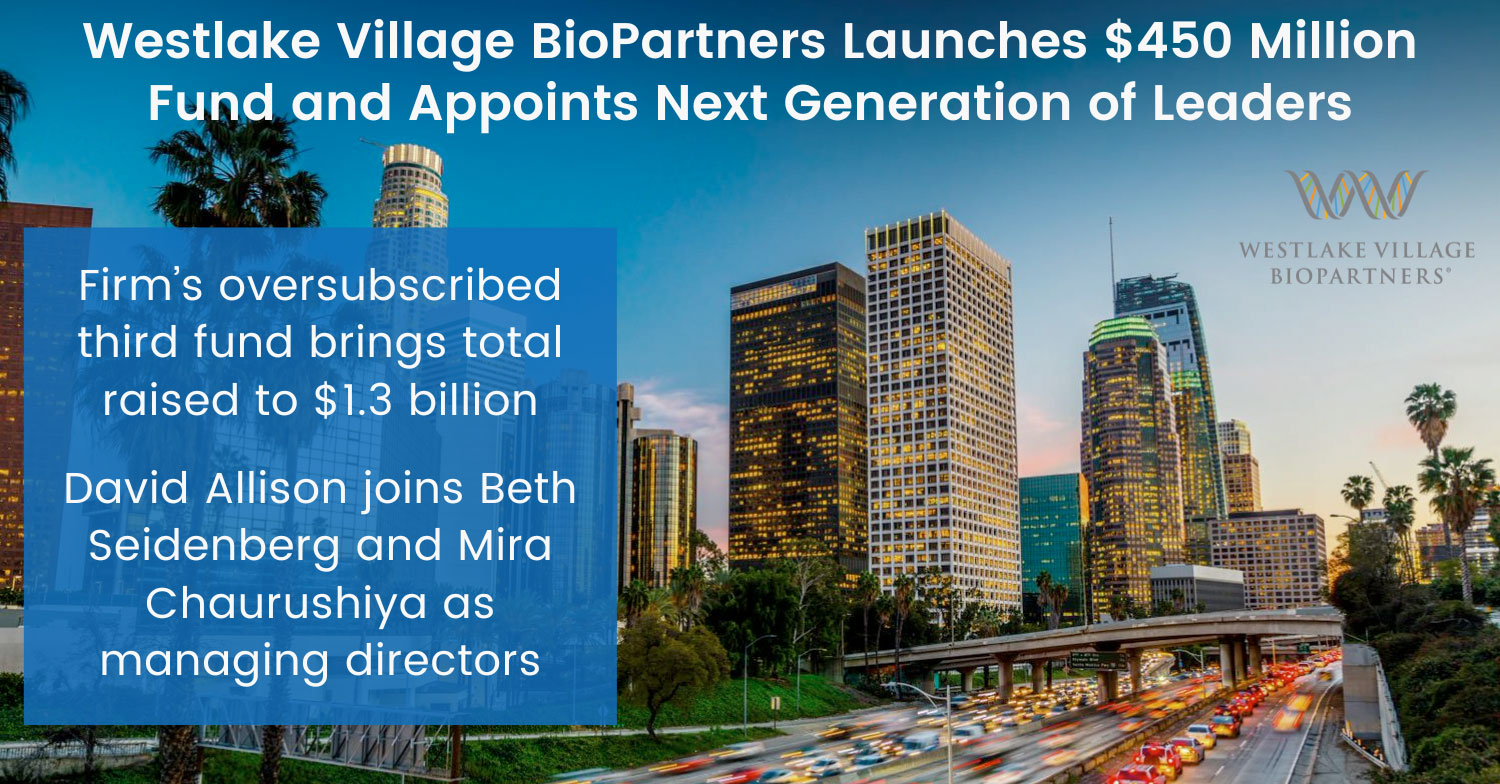 Firm's oversubscribed third fund brings total raised to $1.3 billion since founding in September 2018
David Allison, Ph.D., joins Beth Seidenberg, M.D., and Mira Chaurushiya, Ph.D., as managing directors
LOS ANGELES, Calif., July 17, 2023 – Westlake today announced the launch of its third fund of $450 million to incubate and grow early stage next-generation biotechnology companies in the Los Angeles region and beyond. The new fund will be managed by founding managing director Beth Seidenberg, M.D., managing director Mira Chaurushiya, Ph.D., and David Allison, Ph.D., who was recently appointed managing director.
"This new fund will enable us to continue to do what we do best – build great companies from the ground up that make a difference for patients and generate outsized returns for investors regardless of market conditions," said Dr. Seidenberg. "Our investors recognize our strategy is working and have demonstrated their commitment through this new investment."
Westlake will use the funds to continue to incubate and build early stage companies, by matching promising next-generation technologies with world-class talent to create transformative therapies that will change patients' lives.
Building a Venture Capital Firm to Last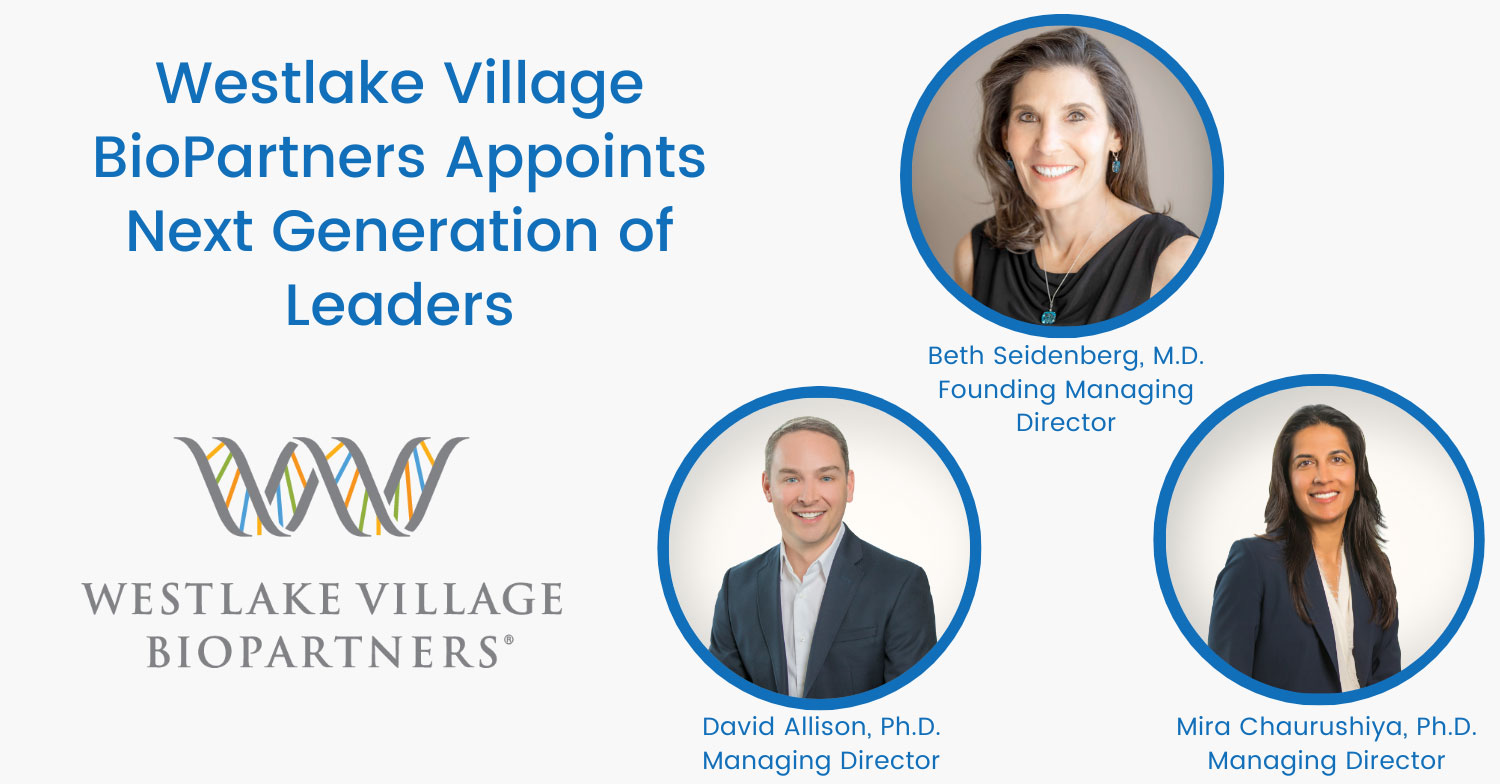 Westlake announced the appointment of Dr. Chaurushiya as a senior partner in early 2022, and with the start of the new fund her promotion to managing director, and today announced Dr. Allison's appointment as managing director. Along with Seidenberg, Chaurushiya and Allison will lead the new fund.
"Our goal is to build a venture capital firm for the long term," said Dr. Seidenberg. "Adding Mira and David to our leadership team allows us to leverage their deep scientific, business, and investing expertise across our entire portfolio, while also building Westlake's next generation of leaders."
"Working with Beth and reuniting with Mira at Westlake is a once-in-a-lifetime opportunity," said Dr. Allison. "The firm has a focused, disciplined, and consistent investing strategy, which aligns with my approach throughout my investing career. Having created more than 20 high-quality companies since Westlake's founding in September 2018 is an impressive record by anyone's standards and I am thrilled to continue this work as we launch the new fund."
Dr. Allison has spent the past 15 years in biotechnology venture capital, including most recently as a partner at 5AM Ventures. While at 5AM, he was involved in investments including CinCor Pharma (acquired by AstraZeneca), Crinetics Pharmaceuticals, Impel Neuropharma, Inipharm, Neurogastrx, and Radionetics. Prior to 5AM, Dr. Allison was a principal at Versant Ventures and held previous roles at Split Rock Partners and PTV Healthcare Capital. He received a Ph.D. from Rice University and a B.S.E. from The University of Iowa.
Dr. Chaurushiya was most recently at 5AM where she was a partner and involved in investments including Precision Nanosystems (acquired by Danaher), Enliven Therapeutics, Purigen Biosystems (acquired by BioNano), Escient Pharmaceuticals, Novome Biotechnologies, and TMRW. Dr. Chaurushiya is a fellow of the Society of Kauffman Fellows. She received a Ph.D. from the University of California, San Diego in conjunction with the Salk Institute for Biological Studies, where she was awarded the Martin Kamen Thesis Prize in Biochemistry, and was a postdoctoral fellow at Genentech. She received a B.A. from Carleton College.
Catalyzing the Los Angeles Biotech Hub
Westlake pioneered the creation of the Los Angeles Biotech Hub and has so far established eight companies in the region. "Los Angeles has a culture of innovation that is underappreciated in the biotech world," said Dr. Chaurushiya. "We have outstanding entrepreneurial and industry-experienced talent, world-class academic institutions, and sufficient venture capital with expertise in building biotech companies. Along with the wonderful Southern California lifestyle, this is a recipe for success."
About Westlake Village BioPartners
Westlake Village BioPartners is a Los Angeles area-based venture capital firm focused on incubating and building life sciences companies with entrepreneurs who have the potential to bring transformative therapies to patients. Westlake manages more early-stage venture capital solely from the greater Los Angeles area than any other firm. The Westlake model is built on the founding team's unique experience in successfully identifying and developing breakthrough therapies and building organizations, based on their extensive R&D, investing and company-building experience. For more information, please visit www.westlakebio.com.
Media Contact:
Kathy Vincent
Greig Communications, Inc.
[email protected]